I know that by this time, we've all stopped rehashing 2014 and have started looking ahead to 2015. But I can't just summarize last year with pretty photos of Paris and Europe - I need to pause and share my reflections on a special year.
21 Trains
19 Flights
5 Buses
5 Rental cars
14 Countries
21 houseguests
131 blog posts
2 camels
And countless sheep
2014. I think of this year as my "gift year." That's not to say that every day we get on this earth isn't a gift, because it is. I mean it in the sense that when I think about 2014, I think "we shouldn't still be here." Michael had a contract to work on an assignment in Paris for almost two years, ending in December 2013. Except by the end of that year, we had realized that Paris wasn't merely the home base for our travels throughout Europe. We had somehow built a life here, entered into community, and fell in love with life in the city. Things were looking bleak for a while and it seemed that we did in fact have to move back to the US as planned. Until things turned around and we were able to stay. We weren't supposed to still be hanging around the City of Light this year, but somehow in the end we were gifted with more time.
And so as a result of that, we started the year off in a fun, tumultuous, confusing time known as our "exile" from France. Along with the joys of living abroad are the hardships, and visa paperwork seems endless at times. For close to two months, we wandered about outside of France until we obtained new visas to re-enter.
Just the previous New Year's Eve we were sitting at a flamenco show in Madrid, ringing in 2014 after a trek through Germany and Austria for Christmas celebrations. After which came a two week period in London. It was then that some homesickness for Paris struck and travel weariness set in, and while I wrote about those mixed feelings in London at this point, my love for England's capital only multiplied last year. After all, I was there on 4 different occasions during 2014!
Feelings of missing Paris diminished a bit once we were back in New Jersey to visit our families for the longest period we've been in the US since our initial move, a whooping 3 weeks. We were treated to diners, bagels, pizza, visits with friends and family, and plenty of snow!
Above: We were lucky enough to stay overnight in NYC during a snowstorm, which meant seeing the city covered in a bright blanket of snow (without the headache of trying to get back to NJ at the end of the day on icy roads).
A Year of Family
That wasn't the last time we saw family and friends, of course. This April I got the surprise of my life. Now, I'm in general a bit oblivious when it comes to surprises. There was the time when my parents and friends threw me a surprise party and I failed to notice all the extra cars parked on our dead end street. And the time I screamed bloody murder when my Paris friends pulled off an epic surprise party for me. But I never thought in a million years that when I was invited for lunch at Michael's office that my brother and his girlfriend (who came all the way from NYC!) would be sitting there waiting to start a wonderful weekend in the Loire Valley!
David and Carissa weren't the only visitors who came to visit of course - as the numbers indicated, we had quite a few house guests per usual this year.
The first of which left just the day before my surprise visit. Michael's sister came out to visit us in Paris and we took a weekend trip to Beaune (in Burgundy). We shared lots of laughs and wine together, starting with our visit to the classy Château de Meursault. I love when travel leads to new discoveries - like the realization that the three of us who normally prefer red wine enjoyed this vineyard's white wine the most!
I also love that our time abroad has allowed us precious time with friends and family in Paris. We've been able to share our city with people we never would have been able to travel alongside otherwise given limited vacation time and funds. 2014 was the year of cousins, and I'm so happy we were able to stay this extra year to be able to introduce a few more loved ones to our Paris! We loved our visits with Michael's cousin Jolena, my Aunt Laurie and cousin Emily, and my cousin Laura.
Above: Fun at the Louvre with Jolena last July!
Above: We went on a few tours of Paris via boat with our family! Left is Laura cruisin' on the Seine and right is Aunt Laurie and Emily enjoying the view of Paris from the water.
We're also lucky that both sets of our parents have been able to visit us each year we've lived abroad. Each time we're a little more comfortable here and have new favorite spots to share. After spending hours on the phone describing the places we go and the friends we hang out with, there's just nothing better than getting to introduce our parents to our Parisian lives in person.
A Year of Celebrations
Looking back, what else marked the year? Well, we had a lot to celebrate. It started with our party we hosted to commemorate our 2-year Paris-versary. There's no better way to celebrate than by bringing together all the friends who have made this experience beyond incredible (and of course not forgetting all those who have moved on from this city).
Then there was my birthday. I got to ring in #28 on a long weekend trip to Lisbon with my hubby at restaurant Assinatura. I felt like queen for the evening with an incredibly delicious meal coupled with a wine pairing for each course.
When Michael's birthday came along, I somehow managed to pull off a surprise for him. While it's easy for others to surprise me, I'm the worst at giving surprises because I just can't contain my excitement. But the solution to this was to book a last minute weekend trip to Chartres, France with not much time to ruin the secret.
Another important day coincided with one of my favorite days in Paris - Fête de la Musique. We celebrated 6 years of marriage with the entire city of Paris bursting with music at every corner, alongside dear friends while being treated to one of the most vibrant sunsets I've experienced.
And then there was Bastille Day. I'm always a bit nervous when I gather a bunch of friends in the most crowded area (Champ de Mars) to see the fireworks as I start thinking of the battle to get home afterwards. This year's show was sincerely the best fireworks show I have ever seen, and I think it's safe to say we all remember the leisurely picnic and fireworks show much more vividly (and fondly) than the crowds. So worth it!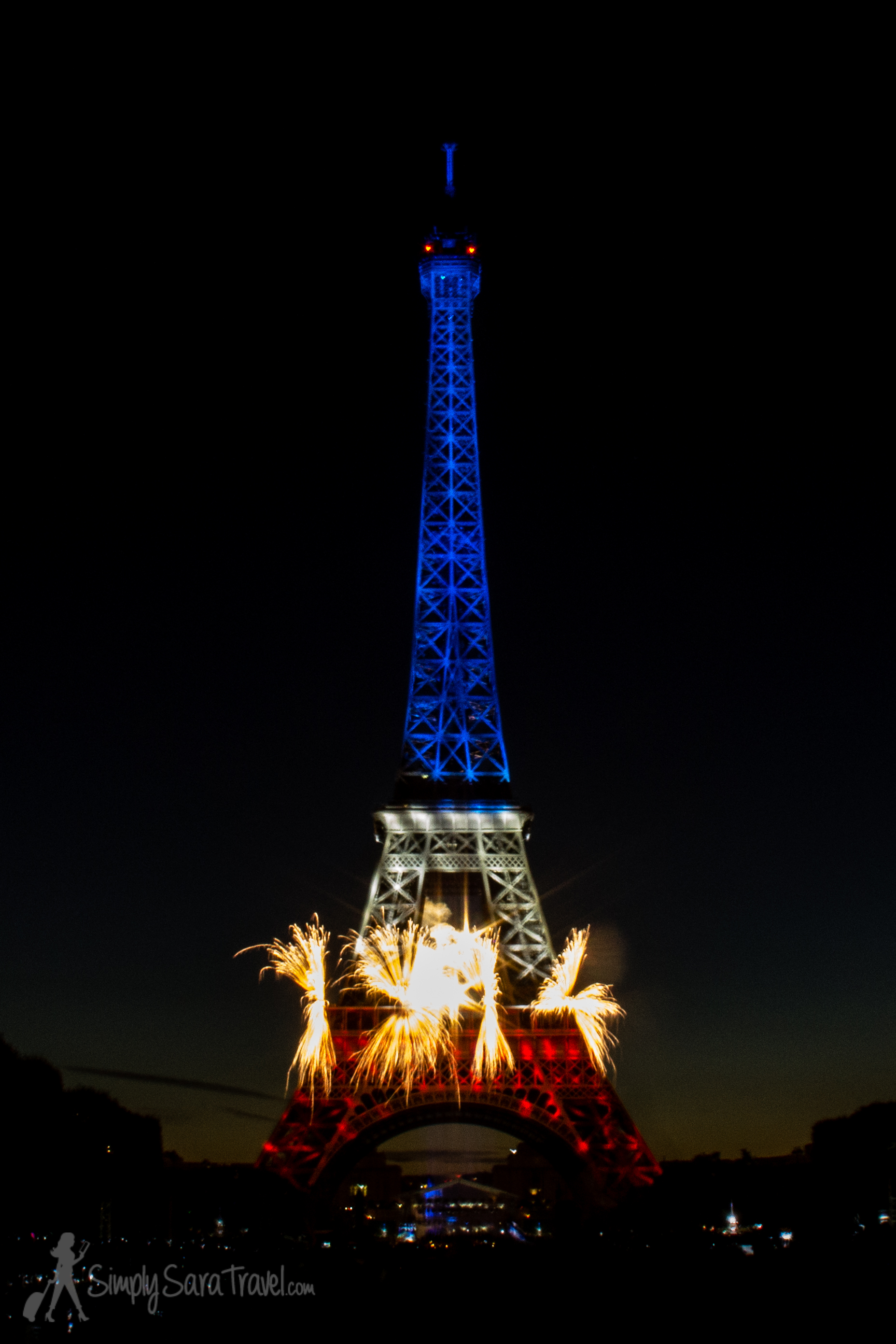 We also traveled back to New Jersey in October for not one, but two weddings...on the same day! What a joy it was to be able to be present and watch two very dear couples start their lives together as husband and wife.
2014: The Good, the Bad, the Ugly:
I don't want to rehash the year making it sounds like it was without any heartache. I owe it to you to portray life in Paris with honesty. So there was the sting of more friends moving and leaving us behind in France. There were the weddings and festivities that we couldn't fly home to attend. The sadness I felt that I couldn't be there to congratulate the happy couple when my brother proposed to the love of his life. Or the yearly pangs of homesickness on Thanksgiving when the day slips by unrecognized abroad (but thankfully we celebrated the following weekend with a huge fête!).
The travel mishaps of the year was when I got stranded in London due to major problems with the Eurostar train. Standing in line for 6 hours and then being told after 9pm that no more trains are leaving for the night, being tired and all alone, has tainted London's St. Pancras station a little for me. But in that hour of need, one of Michael's kind coworkers came to pick me up and let me stay with her and I am so thankful for that!
There's always moments throughout the year that remind us that we have not mastered the French language and still feel very much like outsiders. Most notably was needing to call for service repairs on both the dishwasher and washing machine, tasks that would not be daunting at all in our native language. And the great carbon monoxide debacle of 2014 - read more here on my story that ends with a visit by three firemen.
The Best of Times:
But we can't leave the year off like that - and if those are the worst things that happened in the year, I count myself as blessed. 2014 was an incredible year and I want to leave you with the highlights.
My 5 favorite blog posts:
My 6 favorite food experiences:
Dinner at Verjus, one of my favorite restaurants in Paris, with Michael, my brother, and his girlfriend
2. My friend Kerri's last night in Paris, which ended with a delicious dinner at Aux Deux Amis followed by a champagne toast on the banks of the Seine
This was a night I was dreading as it was the last time I would see my dear friend Kerri while she lived in Paris. It was wonderful though - a fantastic meal of small shared plates at Aux Deux Amis and then a change of scenery to the banks of the Seine made for a classy end of an era and celebration of friendship.
3. My first pierogies in Poland
4. Eating pastries in Budapest
I always associate amazing pastries with France of course, but my trip to Budapest made me aware of a whole new world of sweets out there! My favorite was the Jewish cake called Flódni, comprised of layers of poppyseed, apple, walnut, and plum jam. And it is filling enough to be a meal in itself!
5. Having a big group dinner at my favorite Indian restaurant in London, Tayyabs
I went to dinner at Tayyabs for first time during our two week stint in London in January --loved it so much that Michael and I immediately returned the very next day --and have been going with any friends I can round-up in London ever since. The most epic of these dinners was in June when 9 of us shared a meal together. New friends became like old friends as we all enjoyed the delicious Indian food and got to taste a significant chunk of the menu between us all.
6. Going on a food tour in Marrakesh with lovely locals Amanda and Youssef
When I travel, I look forward to sampling local food. But when it came to Marrakesh, we were both a little leery of making sure we wouldn't get sick from the food (as well as a bit overwhelmed by the vast selection of places to eat). So I booked my first food tour, which was wonderful! Not only did we meet a great group of people, but married couple Amanda and Youssef taught us a bit about Moroccan food and introduced us to great local places. We either would have never found these spots on our own or would have been skeptical if the food would upset our stomachs.
My 5 favorite drinks of the year:
1. Toss-up between cocktails with Carissa at Callooh Callay or tea together at Yumchaa (both in London)
Both of these beverages made my London drink round-up, and both were so good that it's too difficult to chose just one. Carissa (my soon-to-be sister) and I had some girl time sipping some outstanding cocktails at Callooh Callay after all the museums and attractions were closed for the day. And the fun continued the next morning when I got to take her to my favorite tea spot, Yumchaa...because, when in England!
2. The best chocolate stout of my life at Pivovarsky Klub in Prague (from the Czech Olivetinsky Opat brewery)
3. Stand #72 in Marrakesh's Jamaa el Fna market
4. Cocktails at Boutiq Bar in Budapest
Michael and I tried this cocktail bar on our first evening in Budapest and were really impressed by the drinks. So we went back every night we were in Budapest, telling the staff on our last night that if we showed up the following evening, it was because we missed our flight. The drinks were really well-made, the atmosphere was great, and my date every night was pretty wonderful too.
5. All the glühwein in Germany
Glühwein makes the list not for the drink itself (though it is a nice, warm beverage to fight the cold of outdoor Christmas markets) but for the overall atmosphere. It brings people together, warms you up, and is synonymous with European Christmas markets to me. Which, if you haven't caught by all my posts, I love.
And it's hard to choose, but 6 of my favorite travel memories of the year:
1. Exploring Krakow
I just fell in love with everything about this city - its history, its main square, the food, the cool Kazimierz (formerly the Jewish) neighborhood - I can go on and on, and I will...another day.
2. Randomly running into Rick Steves in Prague
3. Being silly in Iceland
4. Going on camel rides both at sunset and right after sunrise in the Sahara Desert in Morocco
5. Drinking Belgian beer with one of Paris' cutest couples in Bruges
6. Getting to spend Christmas with my family...in Austria!
And with that, I think I've summed it up from every angle! Thank you everyone who has come along on this journey with me during 2014 by reading this blog! And lots of love to all of you who were a part of my 2014 - my friends and family are so dear to me, and you made the year fabulous. Wishing you all a happy and healthy 2015!