In the "Simply Sara Eats " series, I recount the my favorite food and drink discoveries.
This year London keeps beckoning me over to visit. And if you've ever taken the Eurostar between Paris and London, you know you can get easily from one city to the next in about 2.5 hours. Between my winter stint in London in January, my impromptu girls' getaway in the spring, and my long weekend with friends in June, it's been hard to stay away from England's capital.
While there, you can be assured that I've discovered some great spots to relax over a beverage. Whether you like tea, coffee, beer, or cocktails, you can find it all on my top 5 list of what I've been loving in London these days:
1. Tea at Yumchaa
Anyone who's stayed at my apartment with me in Paris can tell you I emerge out of my bedroom in the morning crawling to the coffee machine to fuel up for the day. But being in London makes me slow down on the coffee consumption and consider the hot beverage of choice in England. No trip to London can be done full justice without stopping for a cuppa tea. That's where Yumchaa comes along.
Yumchaa offers a large selection of loose-leaf teas to choose from, as well as little accompaniments like scones. For being someone who usually drinks tea only when feeling under the weather, teas like Red Christmas, Chelsea Chai, and Mango keep me coming back to Yumchaa for more when I'm perfectly healthy! The Soho location is only a 15-minute walk from Trafalgar Square, making it a convenient location to relax and recharge after a visit to the National Gallery or National Portrait Museum. (Check out the website for more locations too.)
Yumchaa is my favorite place in London for a spot of tea!
Open daily; see link above for locations and hours. I've only visited the tea shop in Soho.
2. Coffee at Macintyre
Don't be fooled - I may appreciate embracing English customs by drinking tea, but don't think I cut out coffee altogether! On my last trip to London I stayed in the cool Shoreditch neighborhood surrounded by cool street art and fabulous coffee. Inside what was once a former garage is now Macintyre coffee, serving up a delicious brew. I certainly can't claim to be an expert in the nuances of the coffee craft, but I can vouch that the filtered coffee is so good I never even missed added my normal swig of milk in it. And if the London Thru Cafes blog says this shop has "some of the best coffee in London," it sure sounds like they know what they are talking about!
Oh, and they also have some yummy donuts and other small bites to eat. If I lived in the area, this would definitely be one of my hangouts to work from with their big tables and laid-back atmosphere!
13-21 Hoxton Street, London. N1 6NN
Open Monday-Friday 7:30am-5:30pm, Saturdays 9:00am-4:00pm; closed on Sundays and holidays
3. Craft beer at, well, Craft Beer Co. of course
There are thousands of places to saddle up to the bar for a pint. But if you are seeking out a great variety of craft beer, Craft Beer Co. is one of my favorite spots. They made the Guardian's round up of the top 10 craft beer pubs in central London with good reason. With 37 beers on tap and helpful staff to guide you to make a decision, it's a great place to discover interesting beer in a chill ambiance.
I love their first location in Clerkenwell that opened in July 2011 and can only imagine the other branches are just as wonderful.
See link to website above for locations and hours. I've only been to the Clerkenwell location on Leather Lane.
Bonus! CASK Pub and Kitchen
Yup, just to keep you on your toes, I'm sneaking in one more honorary spot. It's the sister pub to Craft Beer Co, called CASK Pub and Kitchen.
In January this sister establishment served me well when I was staying near Victoria and didn't feel like trekking across town for good beer. While the ambiance wasn't as nice as Craft Beer Co (or the next recommended bar), the beer selection was great. (It's a little brighter and not as cozy than the other two on my list.) But it's still a great place to go for a beer if you're on the west side of town, and also serves good food. Make a full meal of it with a burger or the Parmesan fries. (When I say burger, it's not your run-of-the-mill, everyday burger. No, we're talking one supplied from Forty Burgers - check out the menu for the mouthwatering description.)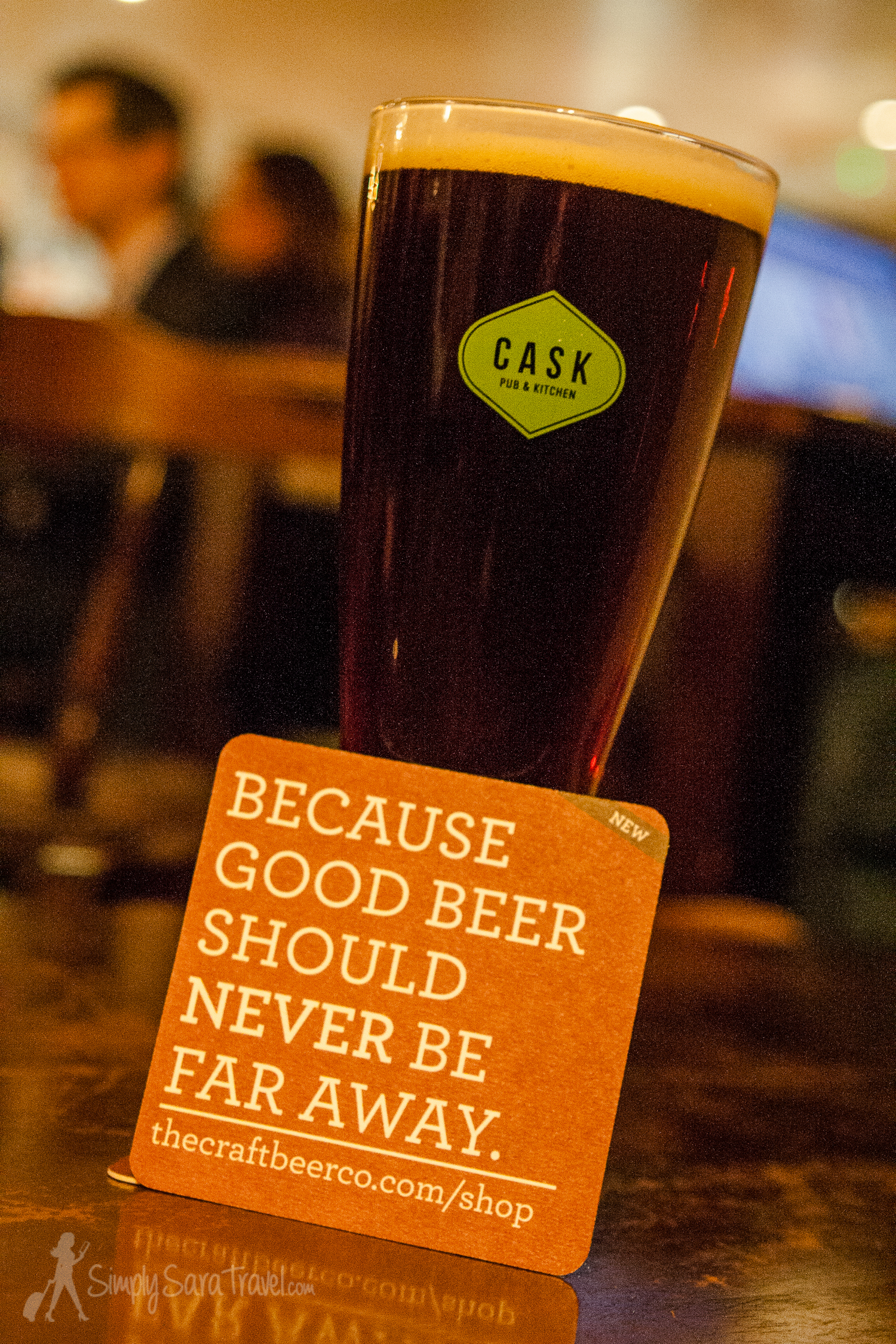 Head there for a good selection of beers on tap and by the bottle. Michael was excited to have one of his favorite Belgian beers there!
6 Charlwood Street, Pimlico, London, SW1V 2EE
Open daily; Monday-Friday 12:00pm-3:00pm / 5:00pm-10:00pm, Saturdays 12:30pm-10:00pm, Sundays 12:30pm-9:30pm
4. More beer at Brewdog
Brewdog is a Scottish brewery with an inspiring story of how two twenty-four year olds with a passion for craft beer started a small operation in 2007 - read about it on the website here. Spoiler alert: Brewdog was a wild success, which is why you can now find them outside of their native Scotland in locations around the world (there's even a bar in Brazil!).
I like popping by the Shoreditch location to get a glass of one of my favorites of theirs, the Dead Pony Club. And they also have beers from other breweries should you decide to branch out a little. The space is cool, the beer wonderful, and the staff super friendly and helpful. Check out one of the London Brewdogs in Shoreditch, Camden, or Shepherds Bush, or stop by BottleDog to pick up some to-go.
Also, if you like cocktails, take a look downstairs in Brewdog Shoreditch at the separate (but connected) bar Underdog. They craft cocktails with the Brewdog beers, as well as other cocktails.
See link to website above for locations and hours. I've only been to the Shoreditch location.
5. Cocktails at Callooh Callay
My friend K is a really wonderful person who I am privileged to call a good friend. She's one of those friends who you can talk to and gain her insight and wisdom. And when she gives cocktail recommendations, you listen.
That's how I first heard of Callooh Callay, which has become my favorite spot for cocktails in London. That's not to say I've tried a ton of cocktail places. Once you go here, there really is no reason to continue the search.
I first went here with Carissa on our girls' trip, and was blown away. Not only is the list of cocktails of the moment long, but each drink is inventive and creatively named. For example, my first drink was called the Rocket Man: "Woodford Reserve bourbon, lemon, smoked sea salt, raspberry syrup, egg white, fresh rocket and white pepper. Strange but amazing like Elton." And Carissa ordered a Nicholas Sage: "Cocchi Americano, Absolut Elyx, lemon, sage, orange infused oil and egg white served in a coupette."
These seriously amazing cocktails made me wish they were less burdensome on the wallet but worth every pound for the expertise that goes into making them. Don't take my advice...take K's!
65 Rivington St, London, EC2A 3AY
Open daily; Sunday-Wednesday 6:00pm-12:00am; Thursday, Friday, and Saturday 6:00pm-1:00am