July 14th marks la fête nationale for France and as you might imagine, the celebrations in Paris are elaborate. Although I didn't make it out to a Firemen's ball (more on what that is in my previous post) and only saw the military parade via the TV, there is one event I wouldn't miss for anything. That, of course, would be the fireworks show.
The last two years have taught me that a spectacle of this nature isn't one to just show up to at the last minute, and certainly not an event to make haphazard plans to meet up with friends. (Spoiler alert - you won't find them, not to mention cell phone coverage gets quite spotty.) No, this year we sent out an invite with a Google map attached to friends of a small shaded area indicating where one might find our picnic blanket, and arrived just before 6pm to stake out a spot. (Note that the fireworks don't start until 11pm, when it finally gets dark.)
Even at the early hour of 5:45pm, all these people were already on the Champ de Mars. But we still got a great spot in the middle, claimed some space with blankets and towels, and sprawled out to picnic with friends.
At some point as the grass starts getting crowded and people keep arriving, I wonder to myself if I've led my friends astray. Have I talked up the experience of the fireworks show too much? Is it worth being a part of the crowd on the Champ de Mars when there are other vantage points to see the fireworks?
But then the concert starts at 9:30pm on that glittering stage, and the Eiffel Tower starts getting dressed up and festive. Excitement settles over the lawn, and I remember there isn't anywhere I'd rather be than right in the midst of it all, with my friends. (After all, Bastille Day is for friends, as Edna reminded us!)
I had some slight reservations about the show this year, given the theme was "War and Peace" to commemorate the centenary of the start of WWI. I mean, I'm comparing it to the likes of the light-hearted and fun show I had seen two years ago, with disco music blasting and a giant disco ball hanging from the second tier of the tower. I wasn't sure what to expect at all.
The French national anthem came on, and we all jumped to our feet as the crowd sang along (see my short clip here). The song ended and we all starred ahead in anticipation. And then, one of the coolest series of fireworks flashed before our eyes - the year "1914," "2014," and the message "Vive la paix" (Long live peace) were shot off the Eiffel Tower. You have to see it for yourself - the official video is here, and you can watch it in the first minute.
We were all in awe, and then "war" broke out.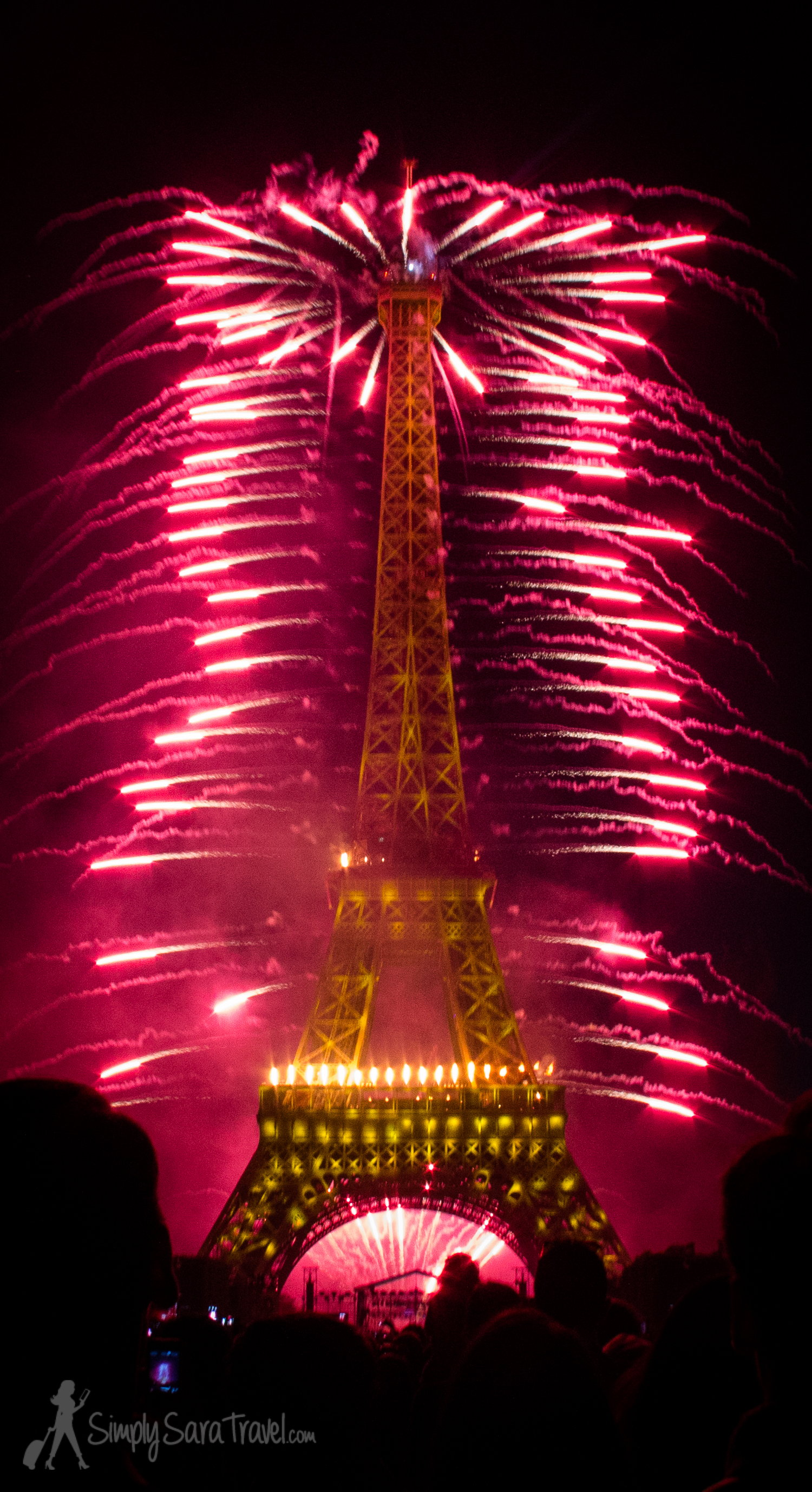 The show was unlike any other fireworks display I have seen. First of all, seeing fireworks set off from the tower itself was crazy enough (and it was all assembled within 4 hours as they wanted to keep the tourist attraction open to visitors for as long as possible). But the show wasn't just about unloading massive amounts of fireworks into the sky, like most fancy, impressive displays. It was a cinematic production, coupled with lights and music, to portray a story of war, and hope for peace. (Read more on France 24's website - the interview with the producer Christophe Berthonneau on his vision for the show was interesting.)
Above is a picture from that war segment, and you can see a short clip of my video footage too. (And I say "my" in the sense of the royal "we" - a shout out goes to my hubby who took the time to take these pictures and most of the video clips with his tripod set-up!)
I should also mention the moment when two acrobats came on the scene: one dangling from the second level of the Eiffel Tower, and one walking up it. I couldn't capture it, but go back to that official video and watch from minute 6:25 through 7:15. You can even hear the crowd's reaction as we all come to the realization that two people are actually on the Tower!
Thankfully the show took a turn, and left us with hope for a brighter future. "Imagine" came on, and suddenly the lawn full of people from all over the world started singing along and swaying. Here's one of my clips from that segment.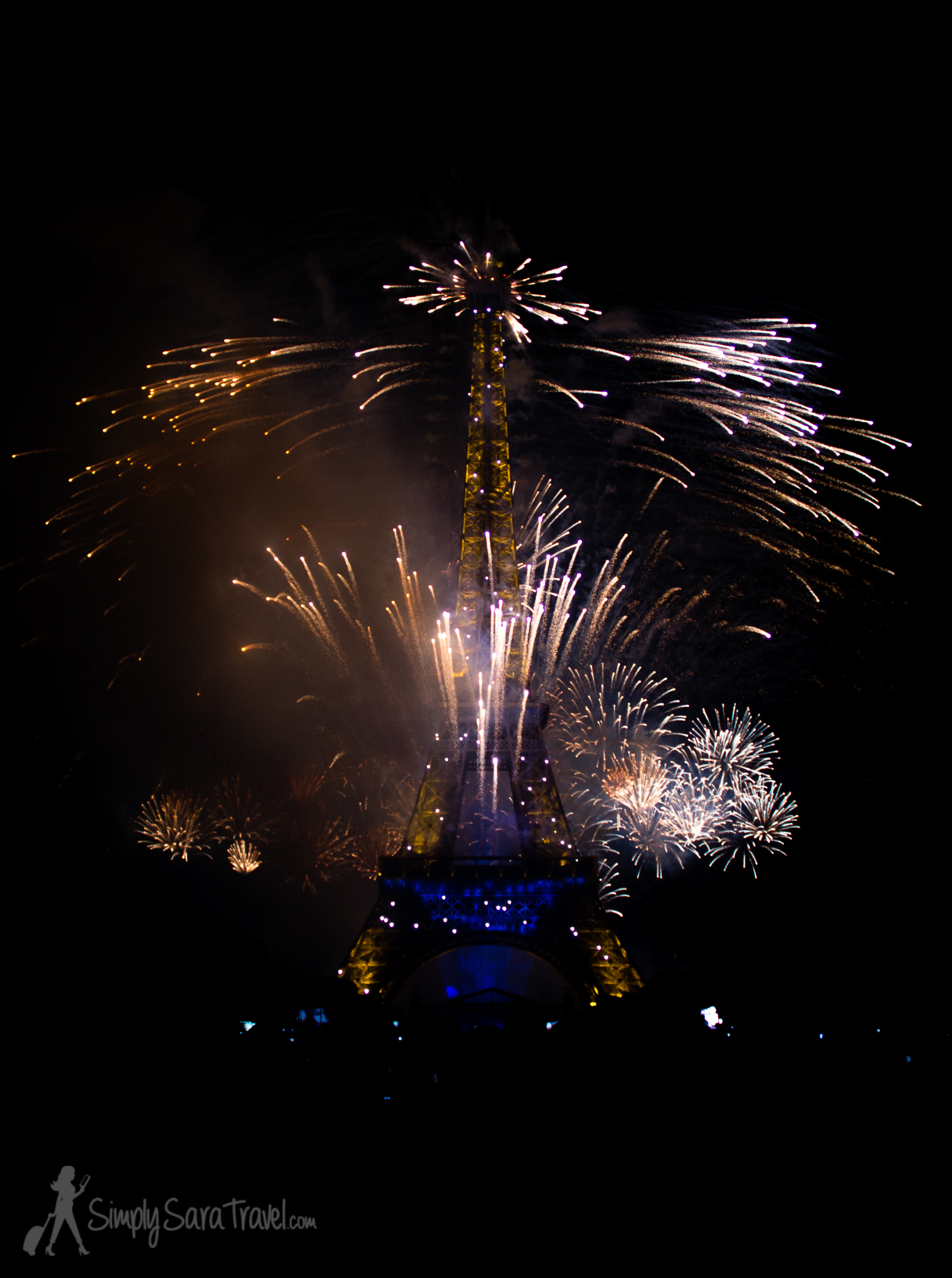 And with a last flourish of fireworks, that 35-minute show came to an end. It was so moving and well-done, I just stood there for a moment wishing there were more.
Even with the crowds though, I have no regrets about watching the show from the Champ de Mars. The cinematic production would not have been fully appreciated without the music, nor would one be able to see those incredible acrobats!
Merci, Paris, for another spectacular show!
Have you ever seen a fireworks show for Bastille Day? What's your favorite picture from this year?