My sister-in-law has taught me how to enjoy the finer things in life. She took me to get my first pedicure and even patiently provided a pair of flip-flops when I lacked the understanding that those were needed (it was winter, after all!). I had always wondered what it would be like to have a sister to share clothes and accessories with, and the few times I've forgotten items on visits back to the US, she's hooked me up with things much trendier than in my own wardrobe.
It follows then, that my first high tea in England would be with her. The truth is that I'm pretty cheap when it comes to spending money on myself. I had been interested to attend a classy afternoon tea time, but the price tag has always made me think twice. With Yumchaa as my go-to tea spot in London, I can get a personal pot of tea for a few quid - a far cry from the price tag of a proper sit-down experience. But as we planned for a fun week ahead in London with Michael's sister and one of her friends, we figured our last hurrah (for now!) in London should include this bucketlist item. And who else to go with than the queen of class herself, Miss Dawn.
The next question was where to go, then, for this splurge? A little survey from my foodie friends who knew the tea scene in London came back, and they corroborated that the best place in London was: the Goring. (They're apparently not the only ones who think so either - the Goring has won awards as one of the best spots for afternoon tea in the whole of London.)
The Goring Hotel was perfect with its central location, making sightseeing in the area beforehand a possibility. (It's mere minutes away from the Queen herself, near Buckingham Palace.) The fact that it was walking distance from Michael's office made it even better, since he could get there quickly and enjoy the afternoon without worrying about how long it would take him to get back afterwards. This was key - because the Goring is quite an experience, and one which demands not to be rushed!
I had been prepped by those in the know about what to expect at a high tea of these proportions. "Don't eat much ahead. They keep refilling and replenishing everything. Pace yourself. It's basically the one meal of the day you'll eat."
So we heeded the advice, and came ready to eat. (And it helps that our reservation was at 3pm, so we had many waking hours to build up to the occasion.) Though when those three-tiered platters were presented in front of us, we all took a moment to question - was this really going to be enough?
Oh, was it. Because after you've downed countless cups of tea with bottomless refills provided by your oh-so-English waiter, and the finger sandwiches have been replenished, you realize - wait - there are scones yet! And oh, are there scones. The best scones you've ever had in your life, with clotted cream and jam to adorn it. You become overwhelmed - sip champagne, or tea? Can I possibly eat another scone? Will anyone notice if I open up my purse and save one for later? What would Kate do? And then, that last tier, the prettiest of all, is begging for your attention, waiting to be indulged in for the finale.
So let's give them the attention they deserve and talk about those pastries for a moment. Living in Paris, it's easy to be a bit of a pastry snob. After all, just about any run-of-the-mill bakery is lined with rows of gorgeous desserts of Instagram quality. So trust me when I say even my snobbish pastry self took notice to these treats. Though I've never been one to turn my nose to sweets - these days I've just become more selective. My Grammy taught me at a young age that we all have an extra shelf in our tummys reserved for dessert, and that advice has stuck and encouraged me to always take a peek at the dessert menu after dinner out. Looking the menu over never hurts.
I couldn't even finish sampling them all. Imagine that! I need to report back to Grammy and let her in on the fact that surely tea and champagne had cluttered my dessert shelf a bit - or was it the scones?
Despite being close to the office, somehow Michael was in danger of missing a meeting - even though he budgeted 2 hours for tea time! Amateur mistake, I suppose. With him gone, us three girls contemplated how long we could linger and relax in such a lovely setting. Somehow we finally collected ourselves to go out into the rain once again - but not before a little more fun.
Before handing us our jackets, the coat check staff member suddenly asked for a camera, and started leading us around the ground floor. Like a skilled photographer, he arranged us in place for some photos to remember our afternoon at the Goring. It's little details like this that set apart afternoon tea from the Goring's tea, no doubt.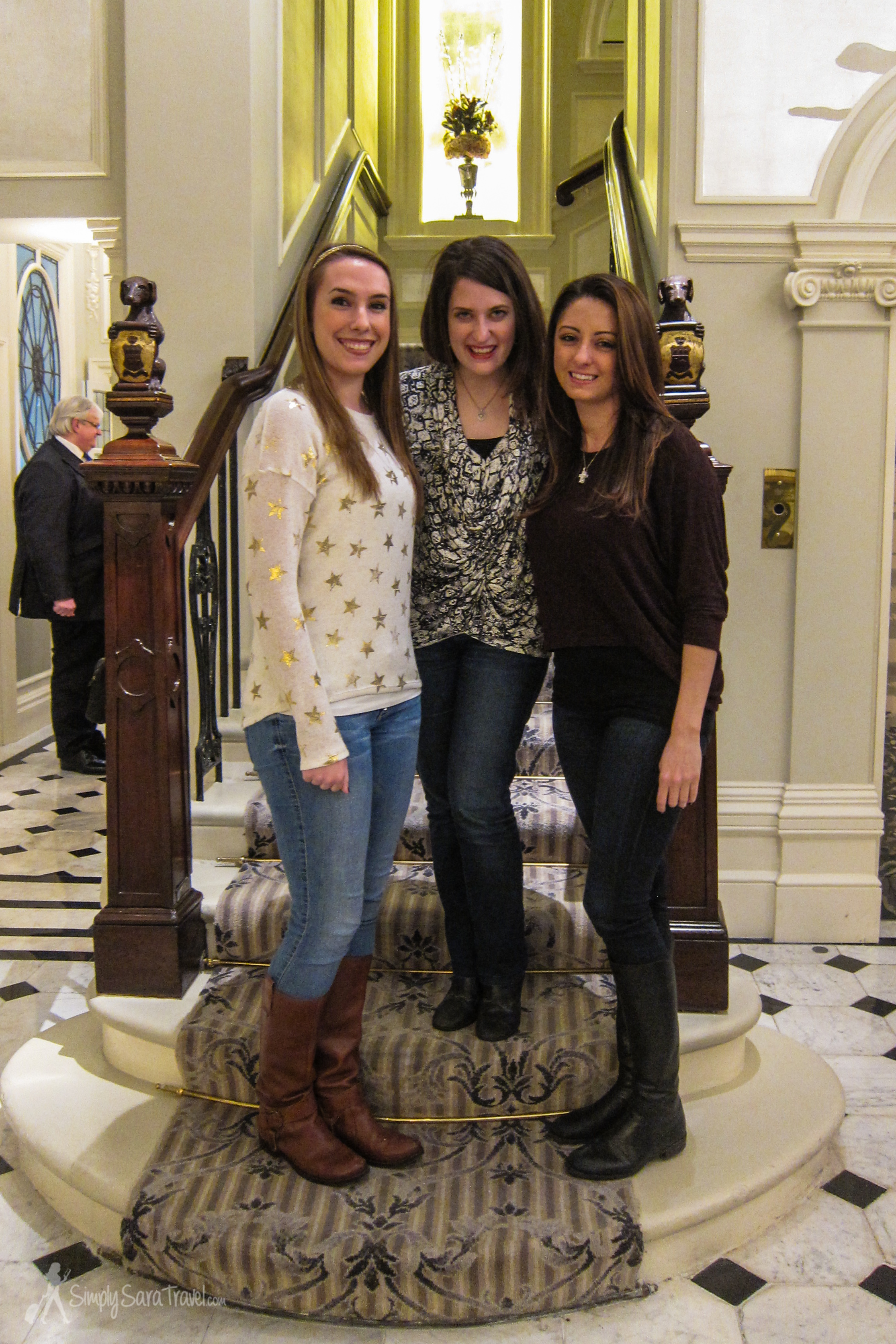 Bottom line - was it worth it, you might ask? YES! It was one of the highlights of our week together, and it had us dreaming of seeking out another afternoon tea before the trip was over. (Which didn't materialize, but perhaps that's for the best - I doubt you can top the Goring!) Follow in the footsteps of Dawn - and Tom and Donna of Parks and Recreation - and treat yo'self!
PLAN YOUR VISIT:
The Goring Hotel
Beeston Place
London, England SW1W 0JW
Afternoon tea starts at 3pm and later, and tables are reserved for 2 hours.
Reservations can be made online on their website. (Do make reservations ahead of time!)
Afternoon tea starts at £42.50 per person, for the Traditional Afternoon Tea. We all opted to up the glam and go for the Bollinger Afternoon Tea (£52.50), which includes the addition of a glass of Bollinger champagne. (Prices as of August 2015.)
There's a list of teas to choose from, but in case you're interested, we all went for the Goring Afternoon Blend which was highly recommended by the staff, and delicious. I've never drank so much tea in my life!