Moving is hard work. There is the physical aspect of sorting, sifting, donating, and packing stuff. There are the administrative tasks of booking plane tickets, canceling services, and coordinating the check-out with the landlord. And then there's the work that most of the time, we don't even acknowledge much: the emotional process of mental preparation.
When I moved to Paris, I never would have imagined the real estate this place would one day take up in my heart. We moved initially with the intention of using Paris as a European home base to travel the continent. We would be residents, but the extent to which we would "live" there and be present remained to be seen.
As you probably could see, if you've spent any amount of time following our story, is that we grew to LOVE Paris. We would travel around and cherish the ability to explore Europe, but we would become homesick - not for New Jersey, but for Paris. We would eagerly anticipate the end of a trip because it meant we were returning home, to our city.
As our departure date loomed ahead of us, the inevitability and finality of the move to the US slowly felt more concrete. And while I couldn't pack up my favorite places and take them with me like I wished I could, I decided to do the next best thing - to coordinate a photo shoot with a photographer to capture us in some of our special corners of the city. The fact is that photo sessions aren't just for wedding-related festivities. It could be for mother-daughter trips, family vacations, or a solo traveler looking to document an adventure. Or for two people who love Paris who wanted to bring home a little piece of the city.
After a gloomy spring, a good two weeks or so of glorious sunshine graced Paris. We were lucky enough to meet up with Lindsey of Pictours Paris on just such an April day for a two-hour stroll to some of our favorite places.
We started in the park next to the Notre Dame Cathedral to catch the tail end of the sweet cherry blossoms filling the air.
From there, we asked Lindsey to follow us over to "the spot." Friends know if we're picnicking at the spot to show up here, at the tip of Île Saint-Louis. From this spot we've sat on countless evenings watching the sun set behind Notre Dame and glitzy dinner cruises pass by on warm summer nights.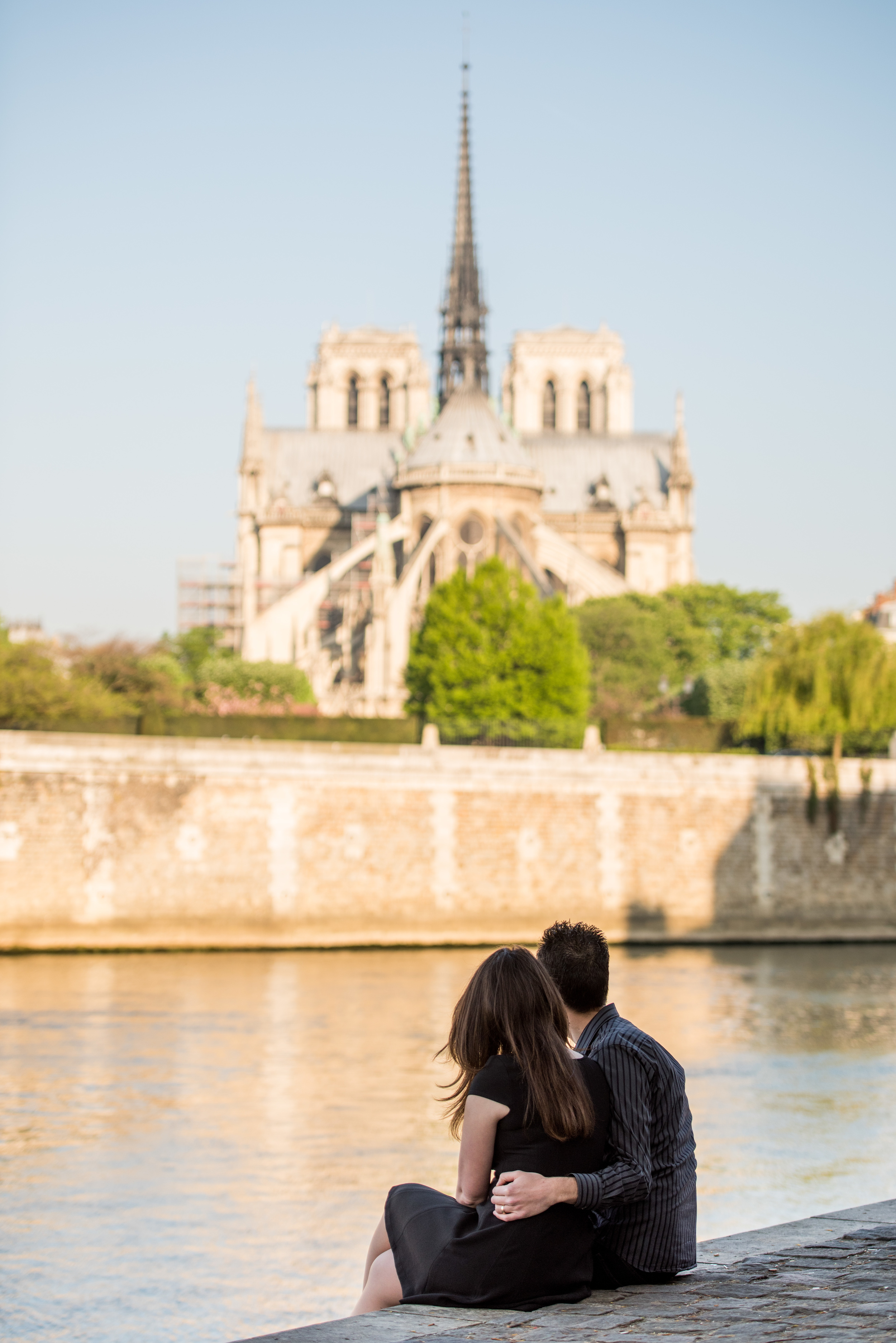 Lindsey took us over to the other side of the island, where the lighting was just right for some more Seine-side stolling. If you have any doubts about what to do on a photo shoot like this, be assured that Lindsey helps direct poses so you can channel a little Parisian glamour!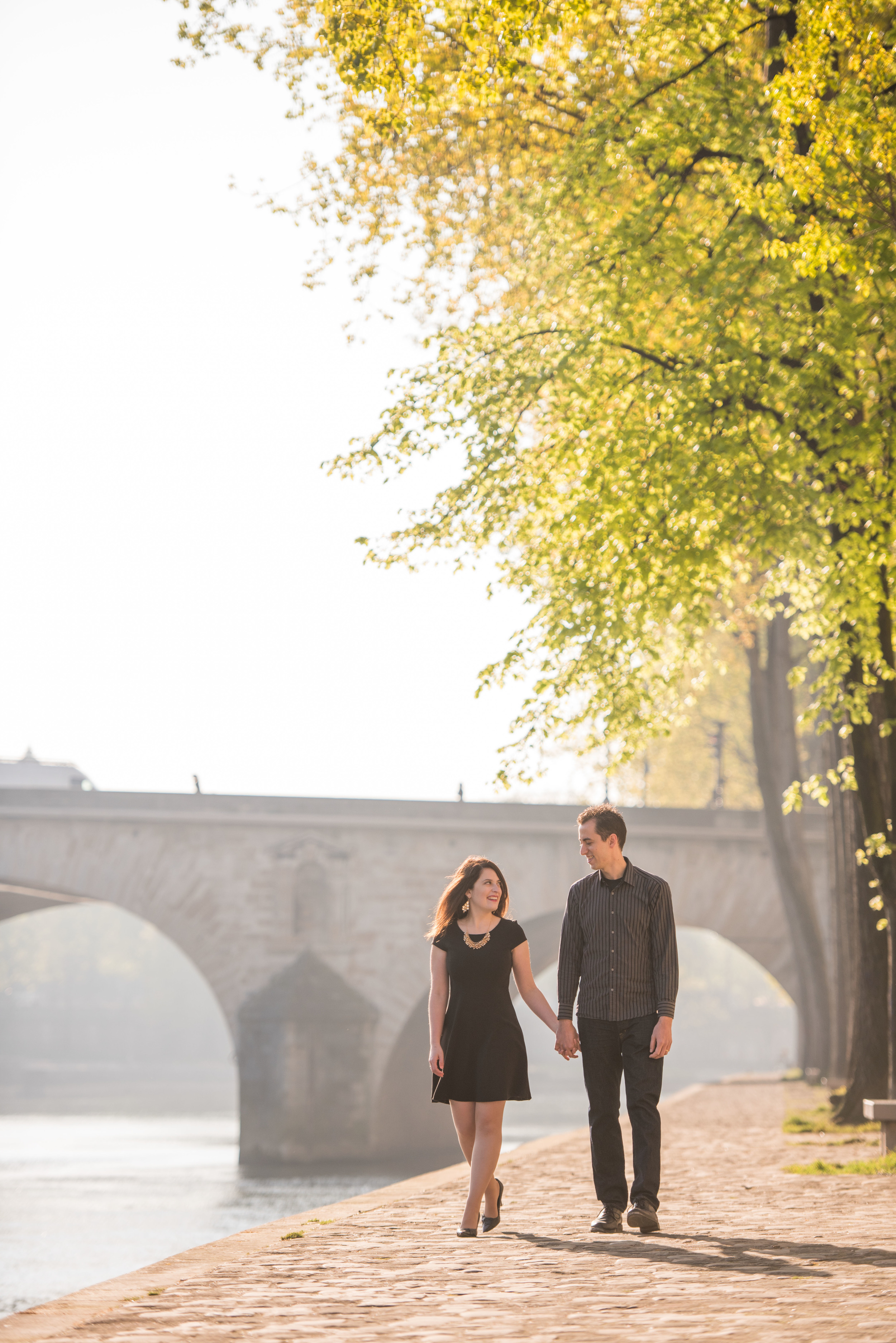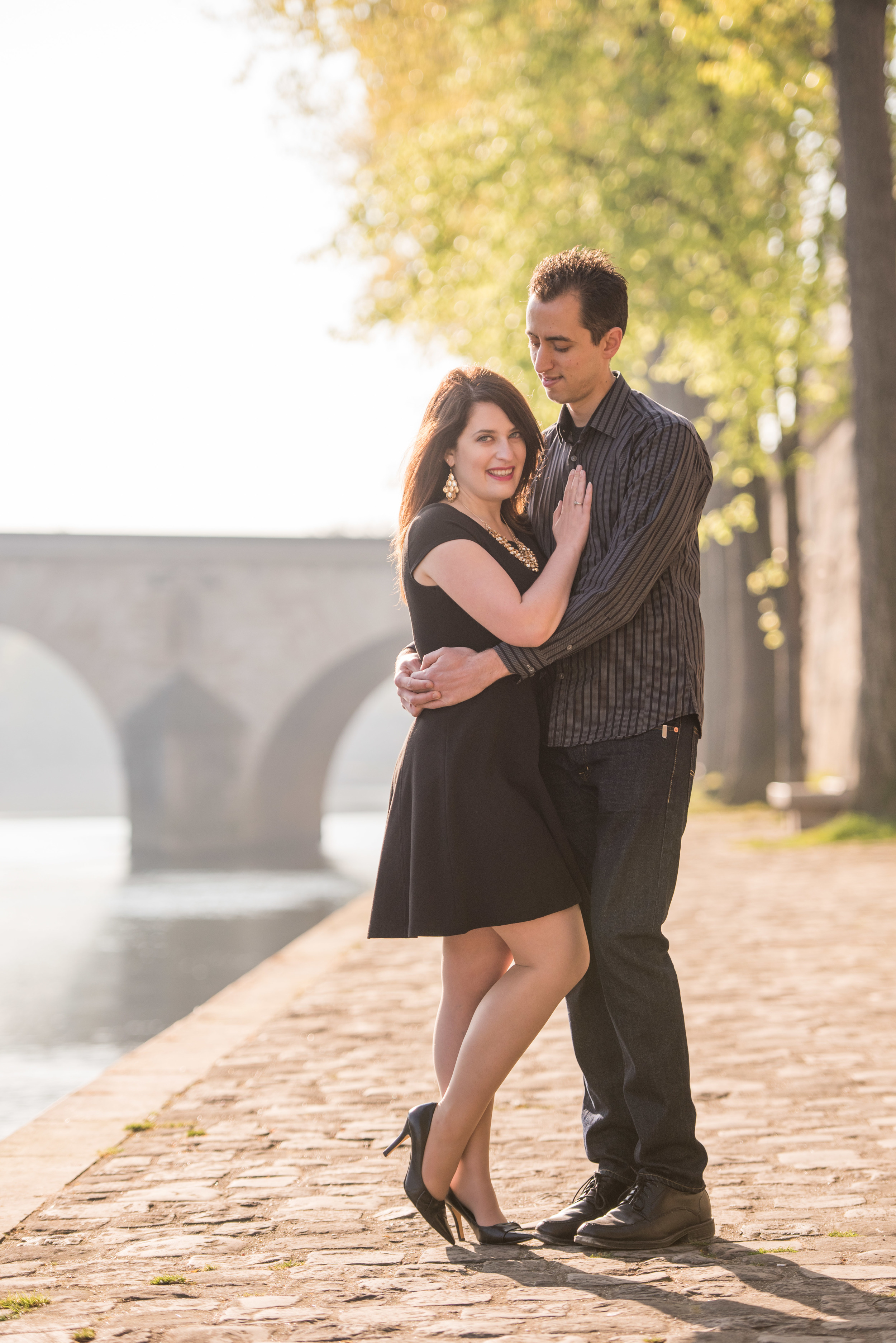 Most sessions with Pictours Paris go to the iconic Louvre pyramid and Eiffel Tower, which are stunning backgrounds for couples getting engaged, honeymooning, or celebrating other special occasions in the City of Light. What I loved about our shoot is that we were able to work together to incorporate our own personality and style. Since the purpose of our time together was to memorialize in a small way our three years of residency, it was important to us to focus on locations and activities that were part of our daily life.
That's why I love that we got a few photos at a typical café in the Marais. Not only did we get to pause for a café date (and a little coffee was appreciated given that we met up at 8am...and you know we're not morning people!), but Lindsey caught us being typically "us." Most people stick to cheers-ing with alcoholic beverages, but Michael and I do it with just about anything we can. Call us celebratory eaters - we clink macarons, eclairs, fries, and just about anything that's solid enough to do the job before we dive in and happily eat or drink away.
You may recognize this next spot as the famed falafel street of Paris. It was here that Michael discovered that it was perhaps fate that he was able to polish off a falafel between being handed it on rue des Rosiers and arriving at our front door.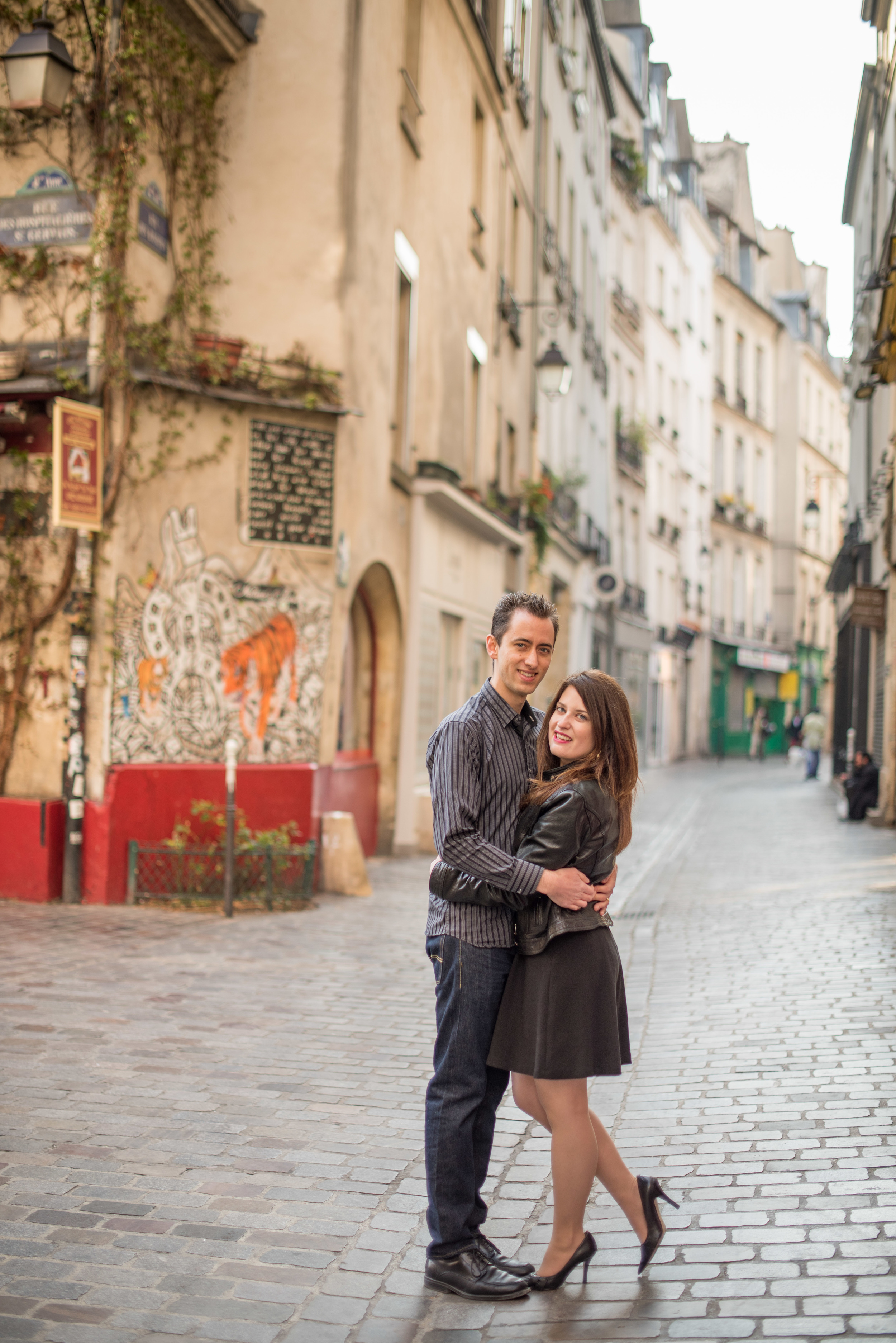 The finale of our time together was the street, and really the only spot, that we insisted absolutely had to be included. Where else would it be than home sweet home on rue de Thorigny?
This quiet street in the Marais was our address for precisely three years. We moved in to the first apartment we visited (and promptly fell in love with) and this street became an integral part of our Paris experience. We had a crémaillère (housewarming party) here, threw countless fêtes, shared this space with many house guests, and made it home in every way. And as much as we progressed with our French, we still never managed to pronounce our street name well enough for a cab driver to recognize on the first (or second or third) try.
And now that I've shared pretty much all my favorites with little-to-no curation, I'm interested to know what you think! We have the freedom to print these photos as we wish, and as we get settled into an apartment in NYC I certainly will be looking to incorporate some Parisian touches. Do you have a frameable favorite or two?
[As usual, this post reflects my opinions and was not sponsored in any way! I'm writing about Pictours Paris because it's an experience I completely and unbiasedly recommend. No matter what the occasion, hiring Pictours Paris would be a perfect way to capture a visit to this lovely city.]
All photos courtesy of Pictours Paris.